Seminar Top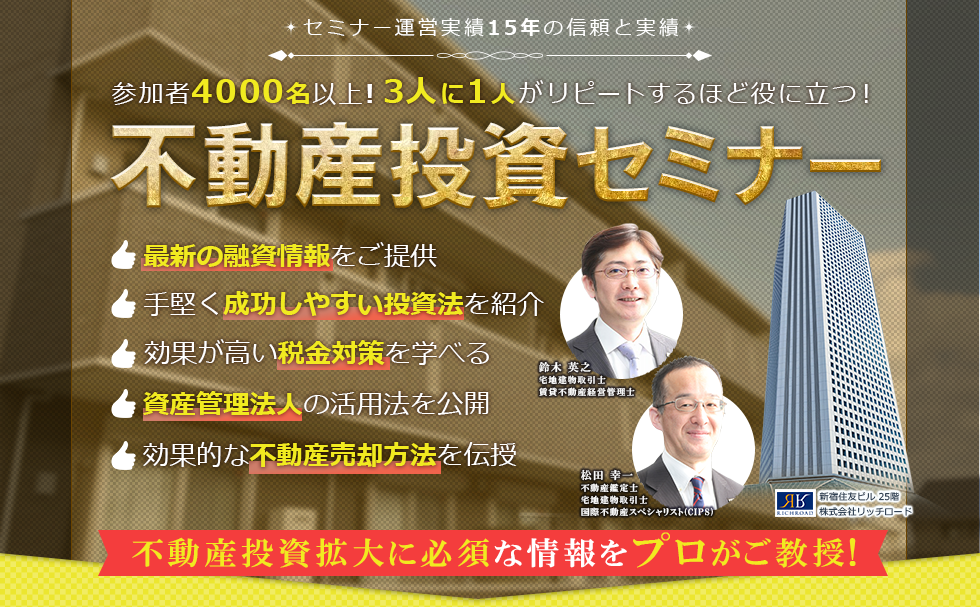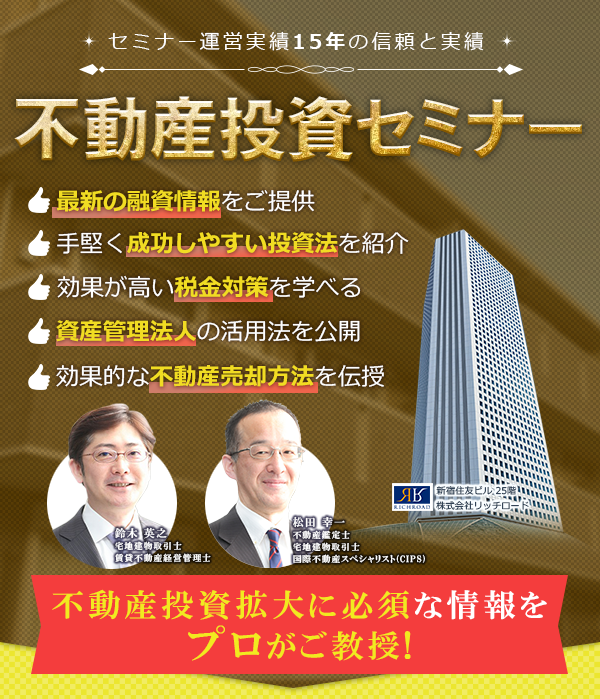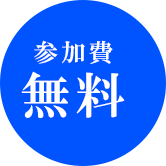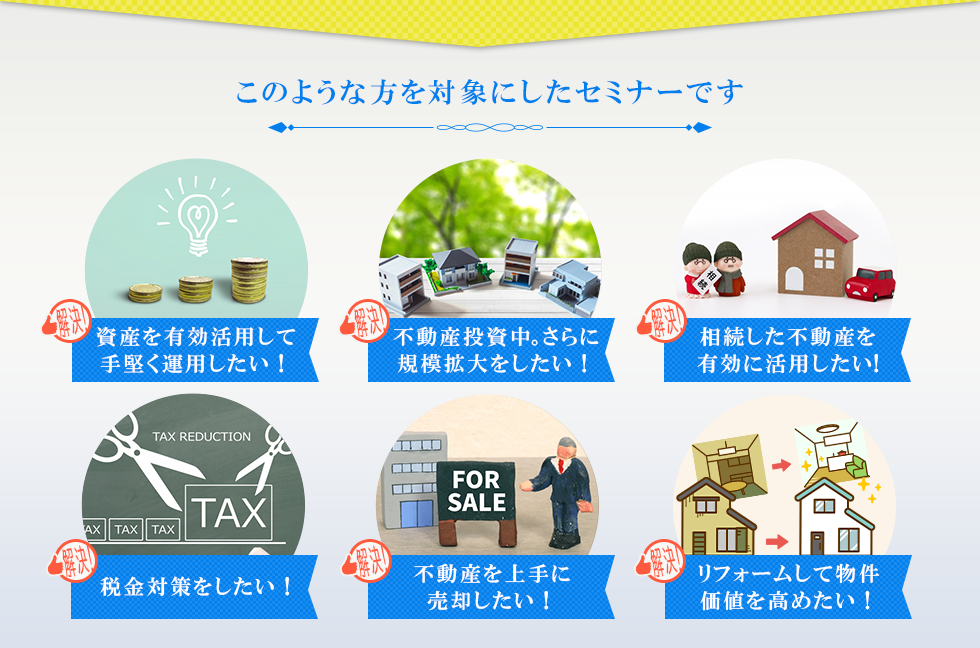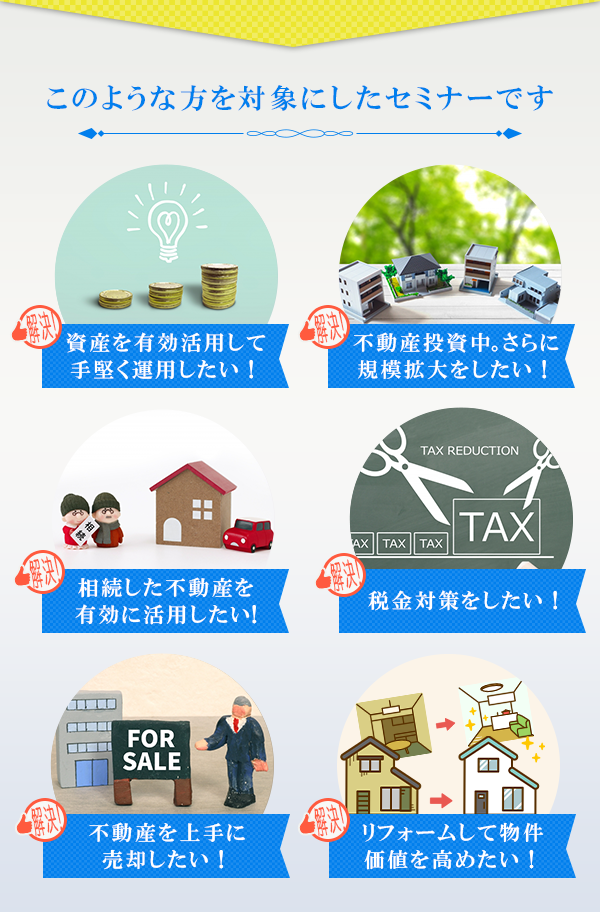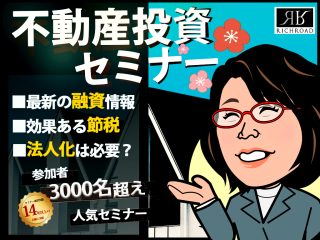 Dates

January 2021, 8 (Saturday)

Holding time
13: 10 ~ 14: 10
Venue

● WEB will be held using ZOOM ● * We will show you the URL for participation only after applying.
Capacity
[First come, first served] 30 people
cost
Free
lecturer
Hideyuki Suzuki Deputy Director Consulting Division
Message

★ WEB holding ★ Seminar specializing in used apartments

What is the best way to maximize the return on your investment?

★ Which is better, new apartment or second-hand apartment?
★ What is depreciation called magical expense? ?
★ The only thing that can be invested considering the exit strategy is a unique apartment! Why?
★ I want to know how to avoid vacancy risk!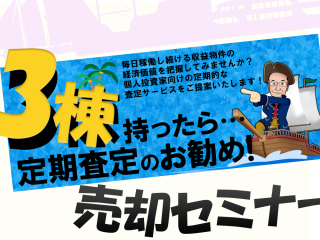 Dates

January 2021, 8 (Saturday)

Holding time
14: 40 ~ 15: 40
Venue
◆ It will be held online using ZOOM. We will send a URL for participation only ◆
Shinjuku Sumitomo Building 2F, 6-1-25 Nishi Shinjuku, Shinjuku-ku, Tokyo
Capacity
30 people
cost
Free
lecturer
Koichi Matsuda, Real Estate Appraiser, Solution Division
Message

【table of contents】
 1. Think about sellingbefore that 
 2. Of sale6 processes 
 3. Of saleWorry

<Are you worried about this? >

□ I want to sell real estate but I don't know the flow ...
■ I don't know how long it will take ...
□ I'm worried if I'll have trouble after selling ...
■ What is important in preparation?
□ How much does it cost to sell?

⇒ In this seminarI will explain the overall flow of the sale!

 It's uneasy to ask an intermediary to sell without knowing anything ...
 At this seminar, you can do it yourself

 Teaching know-how on sales that you should knowI will do.

 We are waiting for your reservation★

Lecturer
 Real estate appraiser, residential land and building trader
 Solution Division Manager Koichi Matsuda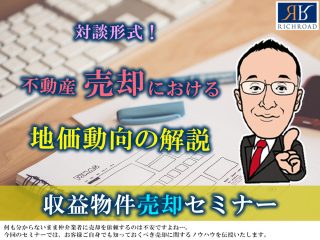 Dates

January 2021, 8 (Saturday)

Holding time
13: 10 ~ 14: 10
Venue
◆ It will be held online using ZOOM. We will send a URL for participation only ◆
Shinjuku Sumitomo Building 2F, 6-1-25 Nishi Shinjuku, Shinjuku-ku, Tokyo
Capacity
30 people
cost
Free
lecturer
Koichi Matsuda, Real Estate Appraiser, Solution Division
Message

Dialogue formatI will explain the land price trend in! !!

【table of contents】


 1. Think about selling

before that

 
 2. Of sale

6 processes 


 3. Of sale

Worry

<Are you worried about this? >

□ I want to sell real estate but I don't know the flow ...
■ I don't know how long it will take ...
□ I'm worried if I'll have trouble after selling ...
■ What is important in preparation?
□ How much does it cost to sell?

⇒ In this seminarI will explain the overall flow of the sale!

 It's uneasy to ask an intermediary to sell without knowing anything ...
 At this seminar, you can do it yourself

 Teaching know-how on sales that you should knowI will do.

 We are waiting for your reservation★

Lecturer
 Real estate appraiser, residential land and building trader
 Solution Division Manager Koichi Matsuda