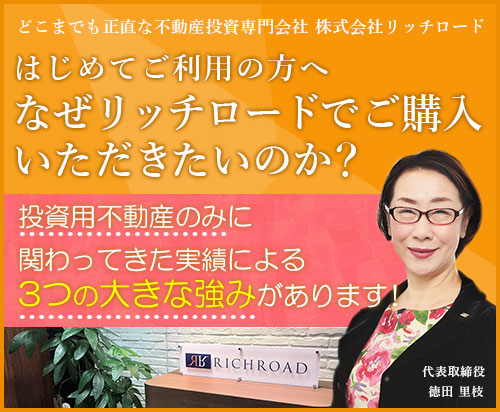 Rich Road Co., Ltd. was the first to adopt the Internet in the real estate industry since 2000,
We have developed sales specializing in investment real estate.
Rich Road is a pioneer in selling real estate for investment via the Internet!
Strength 1
"Strict eyes as a professional" and "Thorough investigation ability"
We believe that the commission we receive is only a reward for the survey.
We will investigate and if there is a problem, we will honestly disclose it to everyone, and if the problem cannot be solved, we will not proceed. Therefore, you can purchase with confidence.
We will concretely conduct the following surveys for the properties that we propose to the buyer and honestly disclose the contents!
■Field survey

Roads (road types, road widths, road conditions, setbacks, etc.)

Site (boundary to neighboring land, height to neighboring land, frontage, crossing border, ground type etc)

Buildings (outer walls, roofs, stairs, corridors, evacuation routes, iron, bicycle parking, garbage storage, etc.)

Facilities (manholes in roads, yards in homes, septic tanks, waterworks, city gas, etc.)

■Legal Affairs Bureau survey

Copies (real estate indications, matters related to ownership and rights other than ownership, etc.)

Public map (relationship between land and road, confirmation of position, shape and direction of land, etc.)

Landscaping survey map (confirmation of positional relationship between neighboring land and area shape per land with one brush etc.)

Building drawings (relationship with site, confirmation of each floor shape and floor area, etc.)

■ Office investigation

City Planning Division (restrictions for restricted areas, building and floor area ratios, altitude districts, fire prevention areas, etc.)

Road section (if the front road is a public road, get a copy of the road ledger plan, etc.)

Building Guidance Division (regulations under the Building Standards Law, rebuilding, acquisition of architectural planning summary, etc.)

Environment Division (Soil Pollution Control Law, Cultural Property Protection Law, Residential Land Development Regulation Law, Aviation Law, etc.)

■Facility survey

Waterworks Bureau (Acquisition of water pipe management charts, front roads, residential land service pipes, residential land piping, etc.)

Sewerage Bureau (Acquisition of sewerage ledger map, service pipes on front roads and residential lands, etc.)

Gas companies (main gas management and burial status service, front roads, residential land service pipes, etc.)
Strength 2
Partnership with a trusted expert
Rich Road has an in-house real estate appraiser. In addition, we have built a strong "partnership" with professional teachers such as lawyers, first-class architects, land and house surveyors, judicial scriveners, tax accountants, and apartment managers.
We can answer questions about specialized contents, such as civil law, building code, boundaries, registration, taxes, management associations, etc. that cannot be followed only with knowledge of real estate, and we are convinced to everyone while solving from all directions You can purchase it.
There are various matters involved in real estate transactions and rental management such as tax and legal issues, land and construction. But it's difficult, and there are many things I don't understand. If you have the legal knowledge to not fail, you may regret that you could have chosen a more advantageous method.
Alternatively, there may be pitfalls hidden in unexpected places. but it's okay! Please rest assured! At Rich Road, experts in various fields will strongly back up your apartment management and condominium management.
Strength 3
Secure rental management
Rich Road has built a rental management system that will satisfy customers after purchase.
In addition to the three pillars of rent management, building management, and tenant management to secure a stable rent income, we introduced a "3-hour emergency response service" from September 20.
We respond quickly to any complaints, such as failures of equipment such as air conditioners and water heaters, emergency troubles such as water leakage or theft from the upper floor, and complaints about noise and garbage removal from the neighborhood.
Purchase is the starting line for real estate investment! Even after purchase, we will back up the owner for a long time!
■ Rent management

Rent collection, delinquency reminder, deposit and withdrawal management, owner remittance, statement issuance etc.

■Building management

Cleaning, equipment repair, indoor renovation, large-scale repair of roofs, outer walls, etc.

■Complaint handling

Trouble with equipment, noise and garbage. Neighborhood complaints, lost keys, etc.)
→ 24-hour emergency response service

■Non-life insurance agency

Fire insurance, earthquake insurance, comprehensive housing insurance, etc.

■Website exclusively for owners

Check monthly remittance details and view annual balance report
Rich Road is also strong for sale!
Even when it comes time to sell real estate, we will strongly support you!
Our company mainly deals with Tokyo, Kanagawa prefecture, Chiba prefecture, Saitama prefecture metropolitan area,
We have a wealth of achievements, so we will use our experience and know-how to provide accurate advice!
Over 19,000 members can view the website
The home page of Rich Road is very easy to understand with lots of photos and comments! And a high evaluation
I have received. There are over 19000 registered members.
At the time of sale, we go to the site to take a picture of the real estate and collect information on the surrounding area and the station, making it realistic
We will make a comment and post it on our website.
Of course the listing is free! An intermediary fee will be charged at the time of contract.
We will proactively introduce the property in the e-mail magazine
Rich Road not only posts on the home page, but actively distributes property information to members.
The e-mail sent by each person in charge with wisdom arrives to investors daily who seriously search for investment properties,
Approximately 80% of the rich road contracts actually come from this newsletter.
Therefore, we are proud of the high closing rate for sales requests.
Introducing some of the voices of owners who purchased properties on Rich Road
TH who purchased a single apartment/mansion in Kawasaki City, Kanagawa Prefecture and Ichikawa City, Chiba Prefecture
Q.

What motivated you to start investing in real estate?

A.

The first thing that started me was looking at the landlord who was in the neighborhood of my parents home when I was a student.
In addition, I was worried about living with only one income, which prompted me to start investing.

Q.

Why did you choose Rich Road?

A.

I received various seminars, and among them, I received a sincere impression on the Rich Road seminar,
In addition, it was a decisive factor that I did not feel the corporate culture of "keeping selling" in individual consultation.

Q.

What is the decisive factor in purchasing your property?

A.

It was decided that the location, profitability and price were well-balanced, and that they introduced a property that had the image of full occupancy.

Q.

How was the sales person in charge at the time of purchase?

A.

Because real estate is expensive shopping, we had a very good analysis of the data based on the field survey at the time of the examination, and I think it was very good. Also, since you can consult variously after the purchase, it is saved.

Q.

How satisfied were you with Rich Road management?

A.

I think it was good. I think it's okay to leave it to Rich Road, so I will entertain the landlord.

Q.

Are you happy to start investing in real estate?

A.

It is a steady everyday, but I am very satisfied.

Q.

Do you want to increase in the future?

A.

I want to increase properties with wisdom and experience.
UT, who purchased an apartment/apartment in Itabashi-ku, Tokyo
Q.

What motivated you to start investing in real estate?

A.

This is for making assets.

Q.

Why did you choose Rich Road?

A.

They also worked with other real estate stores, but sometimes they couldn't get their loans or they bought them, so they flowed out instead of the first. In that regard, Rich Road was quick to move and respond to the loan.

Q.

What is the decisive factor in purchasing your property?

A.

I decided considering the price and value. Rich Road recommended me, so I thought my decision would be correct.

Q.

How was the sales person in charge at the time of purchase?

A.

It was fast moving and could be purchased

Q.

How satisfied were you with Rich Road management?

A.

Since we only have one building, we can't compare, but the satisfaction level is ○! !

Q.

Are you happy to start investing in real estate?

A.

I can afford it.

Q.

Do you want to increase in the future?

A.

I want two more small and medium sized ones.
Summary "Why do you want to buy on Rich Road?"
Rich Road has received a lot of favorable reviews from many customers due to its severe eyes as a professional in real estate investment and thorough research ability,
We have partnerships that can solve any real estate problem.
Currently, the vacancy rate of the properties under management on Rich Road is less than 5%, and we have a system that allows us to manage rentals with confidence.
For this reason, there are cases in which some of our customers earn stable profits and expand to the second and third buildings, and most of them are repeat customers.
In addition, we are proud of our high closing rate because we propose properties directly to members who are serious about real estate investment even when they sell their properties by email magazine.
We have a wealth of expertise in selling profitable properties over the Internet for over 20 years, and we have a wide range of know-how that can be used from beginners who want to challenge real estate investment for the first time to veteran investors who are thinking of expanding their scale.
Let Rich Road make your real estate investment!