---
We will guide you anytime.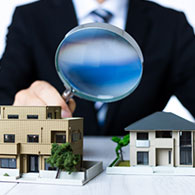 We will provide you with detailed information on the property (public drawings, certified copies, actual measurements, building drawings, rent rolls) at any time to guide you to the site.
On-site, roads, grounds, facilities, etc. are checked against the materials. In case of vacancy, you can see inside the room.
Follow the path from the station or look through the shopping streets and feel the atmosphere of the city and the flowing wind.
---
We will guide you anytime.
"I like the property, but I wonder if I can get a loan ..." I think there is such a worry.
There are various ways of thinking about an investment loan depending on the bank. Bank A is okay with a small down payment, but the interest rate is high. Bank B has a low interest rate, but the down payment is 20% of the price. You have to prepare, or Bank C sees the repayment rate at 35% of your annual income, but Bank D doesn't consider it an investment loan.
In addition to the property, we can offer a comprehensive proposal on which bank to use based on the customer's attributes (workplace, age, annual income, borrowing status) and self-funded funds.
On the other hand, it may be one way to look for a property where the bank can easily get a loan.
---